Yes, I know it is early (especially in SoCal where we have high temps usually through October!), but not long ago I found these two guys:
My older son and I were walking by a store I had never seen the insides of....these were in the window and I had that "wow, those are really unique and if I don't buy them now I will regret it" feeling. Anyone know what I mean? They are definitely my style-a little glam but not overkill. :D So my son patiently waited (why do men hate shopping?) while I scooped them up!
Yesterday, I used them to decorate the fireplace mantle for fall. I LIKE how they look! I purchased some fabulous metallic fall ribbon which I used to adorn a very tired wreath.
The fireplace above is in my family room. I have struggled to know quite what to do with this fireplace...on the one hand, I could completely redo it and make it more modern or even to paint the brick....yet on the other, I have difficulty covering up classic red brick. Because I have struggled with the fireplace, I have done nothing to it except to have a very talented carpenter improve the mantle. The wood and detail on the mantle is actually very beautiful and looks great with our entertainment armoire next to it.
Just a sidebar there.....where was I? :)
Yes, here are some more photos of my fall mantle:
For the wreath, I simply used fishing line to hang it from the mirror, which is just resting against the brick. I could not get it perfectly centered, but I am actually good with that. It's more interesting this way. :D
The art on the right is actually a drawing that was done by my younger son several years ago. I thought it tied things in nicely. I am always just looking around the house for items that will work-it's amazing if you think a bit outside the box what is available right in your own home to use in decorating, and this practice is much more frugal and less wasteful than the alternative. :D
Simple gourds and an orange kalanchoe...
Below are a few shots of a plant I adorned on the dining room table. I used the same ribbon as for the wreath and some of my old Thanksgiving decor. Easy and it looks like something from
Rogers Gardens
without the hefty price tag.
The full view:
HAPPY FALL ALL!
Steph.
linking: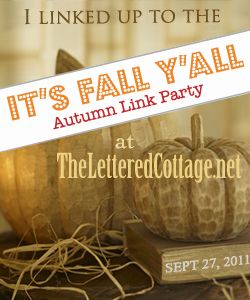 http://www.theshabbycreekcottage.com/
http://savvysouthernstyle.blogspot.com/
http://fadedcharmcottage.blogspot.com/
http://linda-coastalcharm.blogspot.com/
http://debbie-debbiedoos.blogspot.com/
http://betweennapsontheporch.blogspot.com/